FoodChow is the Fastest Growing Online Food Ordering Portal which is made for restaurant owners and food lovers. And, our best mobile app available on Android and IOS. So, by using FoodChow mobile application you can order your food online from the restaurants available nearby your location.
And, if you want to grow more your food business you can join FoodChow different partner programs as per your requirements.
FoodChow Includes Partner Programs

: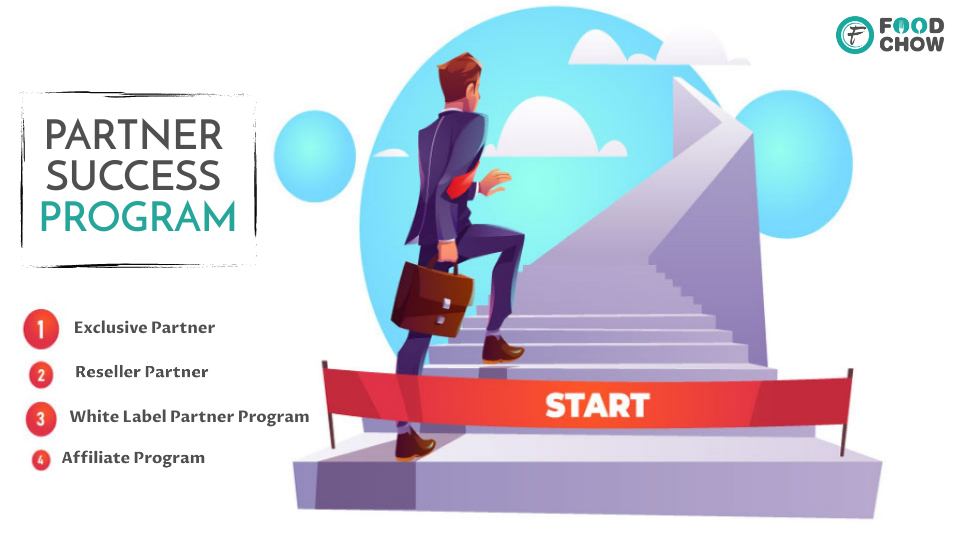 1. Exclusive Partner Program:-
Therefore, the Exclusive Partner program Can Be designed for such organizations. Who might want to get the full regional privileges of FoodChow. Hence, no other Can organization will be authorized in a similar area.
Get Exclusive Rights
Full Training and Support
And, right to Appoint Sub Partners
2. Reseller Partner:-
Moreover, by joining this program, you will get the full training on the product that FoodChow is offering. And, other marketing strategies and support. And, this program is specially designed for an individual who wants to be a part-time or full-time partner.
FoodChow License Badge
Low Investment
Second Income Source
3. White Label Partner Program:-
Nevertheless, White Label Partner is the most effective and demanding program. Hence, this program is designed for all types of restaurants or food businesses who want their own online food ordering system.
White Label Partner Program Benefits
Keep 100% Profit
Get Payment Directly  into your Bank Account
And, get your own Customer Database
4. Affiliate Partner:-
And, by Affiliate Partner Program you can refer restaurants for joining FoodChow. And, you can earn from every order placed through the restaurants that are added by using your Promo code.
Share and Earn
Also, great Source of side income
FoodChow Extra Features :-
1. IOS and Android Application:
Also, get Android and iOS app for managing your restaurant and to get online orders from the customers using mobile devices.
2. Feedback System:
Thus, get the online feedbacks and testimonials of customers which will give you a better understanding of user requirements and experience.
3. Queue Management System:
Moreover, handle the waiting at the restaurant in a better manner. And, use FoodChow Queue Management System.
Why Choose FoodChow Partner Programs?
Fastest Growing Industry
Low Investment
Exclusive Rights
Advance Marketing Training
Full Product Training
Also, a great source of income
So, visit and get the advantage of becoming a partner with FOODCHOW.