(1) Greater Exposure To Your Restaurant:-
Before Foodchow –
Only two sources of
Online Order Food Marketing
are available:
Print media (newspapers, pamphlets, flyers, posters) and
Mouth-to-Mouth marketing
The marketing radius is limited to only a few localities and the day-to-day
Food Order Business
is solely dependent upon the foot traffic. Factors like weather and the consumer's willingness (a factor which many overlook!) play a big role in your eatery's day-to-day sales.
After Foodchow –
A plethora of strategies are at your disposal once you sign up with foodchow:
Own Website,
Social Media Marketing,
Digital publicity through Google Ads and Google Local, and so much more…
Total Freedom & Control To The Business Owner:-Foodchow enables the restaurateur to run their own marketing strategies as per their requirements. Instead of relying on the promo offers given by the Bigwigs' (Swiggy, Zomato, UberEats) where you are clubbed together with 50 other eateries, you can create your own marketing strategy and create your own unique Brand Value.
The issue of using print media marketing (pamphlets & flyers) is the wastage. I see people distributing pamphlets outside colleges and cafes and then I see the same pamphlets strewn across the streets thrown away by un-interested consumers. Keep the streets clean – Go Green – Go Digital and gift the consumers with 24×7 accessibility to your website to place orders and much more!
(2) Creative Control Over Your Business:-
Imagine you, as a restaurateur, want to try out something new – maybe new marketing, a new strategy to increase your sales but you need help in carrying it off AND do not want to pay any commissions to any
Online Food Delivery Company
.
Before Foodchow:-
Either take the full responsibilities of marketing on your own or sign up with any food delivery app and pay the hefty commission in return for their services. You will have reduced creative control and minimal say over the marketing procedure.
After Foodchow:-
You will be in control of the planning, development, and execution of your marketing strategies and Foodchow will be with you in every step. Analyzing the public's reaction, making corrections and re-implementing the strategies will also be fully supported. Eventually,
You will be in control of how your restaurant gets marketed,
You will be free to run your own promo offers, reward schemes, loyalty programs and
You will be the sole beneficiary of the profits you make.
(3) Ease Of Doing Business:-
Before Foodchow:-You cannot showcase all the services your restaurant provides, for example,table reservations, take-away, pre-ordering, etc. Either the Online Food App doesn't support that feature or, if you are in it alone, you have to take the help of print media to the public of all your services.
Owing to these factors, the restaurant owner has to face a lot of hassle while carrying out their daily business operations.
After Foodchow:-Their motto is simple, 'You take care of the food, we will take care of you.'Foodchow's highly qualified team of the web-developers will setup your website in no time. All services provided by your restaurant will be highlighted on the website. The fully automated system will take care of all your bits & bobs related to Online Ordering and Delivery System.
(4) 24×7 ACCESSIBILITY TO THE USERS:-
Now you can take orders even at 3 a.m! With 24×7 accessibility to your restaurant, the users can now place their orders (bulk, pre-order, party orders, advance table booking, etc.) at their own convenience. The goal here is to cut the time period between the customer deciding to place an order and initiating the process of placing the order. If your website is available all around the clock then it would provide an immense convenience factor for the users as far as the accessibility is concerned.
(5) APPEAR PROMINENTLY IN GOOGLE SEARCH RESULT w/ Search Engine Optimization (SEO):-
Consider this – You own a restaurant with its own brewery in Locality XYZ. Now a user from the nearby locality searches for 'Micro-Breweries near me' and voila! Your restaurant shows up at the top results!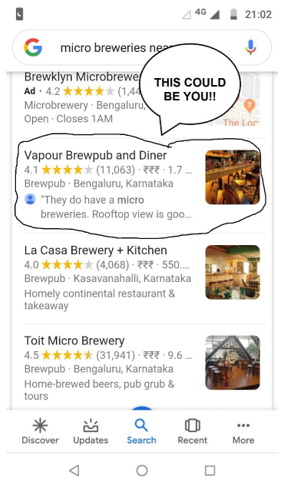 (6) 30-DAY TRIAL AT NO COST:-
Best Online Order Food
In Foodchow allows you to try its complete package of services for a month at zero cost. You can experience the benefits first hand. At the end of the month, you can make an informed decision about whether you would like to continue or not.
(7) PROMOTE ALL YOUR SERVICES:-
Don't just limit yourself to home deliveries. Through Foodchow, you can provide all the services a consumer could ever ask for. This includes:
Online Food Ordering & Delivery (including mid-night deliveries),
Take-away,
Table reservation,
Catering,
Pre-orders,
Party orders,
International shipping,
Bulk ordering.
(8) CREATE YOUR OWN BRAND IMAGE:-
Show off your restaurant to the audience by uploading your restaurant pictures, ambiance pictures, food pics (try not to upload stock pictures) and let them know what to expect before visiting.
If you have a themed restaurant, uploading the ambiance pics can attract a lot of audience to your eatery.
Uploading pictures of the kitchen area is a good idea as witnessing a clean and hygienic kitchen can motivate the user to visit your eatery for sure.
(9) DEAL WITH FEEDBACKS DIRECTLY:-
Foodchow empowers the restaurant owners to deal with customer reviews, testimonials, and feedback directly. For example, if
Swiggy/Zomato/UberEats
makes a mistake in their food delivery to the customer then it is the restaurant that gets the bad ratings as well. Do not let the mistakes of a third party get your ratings down. Foodchow allows the restaurant to maintain its own customer databank which enables them to deal with the feedbacks directly without any intervention from the
third party
.
(10) ONE-STOP SHOP FOR ALL YOUR ENTREPRENEURIAL NEEDS:-
Signing up with Foodchow is like becoming a member of a family. From website development to providing marketing solutions, Foodchow provides
Complete Digital Marketing Strategies for Restaurants Owners
in growing their business. They provide a
restaurant website, food ordering system, mobile app ordering, and online strategy.