The best online food ordering system is hard to determine. "The Best" of anything is relatively subjective. After all, just because something is high quality that doesn't always mean it's going to appeal to all people. But, when it comes to restaurant ordering system, it is important you use the best solution.
So, in this blog, I am going to cover what is an online ordering system and how you can select which is the best.
What is An Online Food Ordering System?
An online food ordering system helps you to take your restaurant business, cafes, or any food business online. Moreover, according to Wikipedia:– Online Food Ordering System is the process of ordering food from a website or other application.
Therefore, the solution will help in increasing sales, receiving pre-orders, customer service, getting paid in advance, and much more.
History:
So, FYI, the first online food order was a pizza from Pizza Hut in 1994.  Also, the first online food ordering service, World Wide Waiter (now known as Waiter.com), was founded in 1995. But, the site originally serviced only in Northern California, later expanding to several additional cities in the United States.
However, as in so many other sectors, the rise of digital technology is reshaping the market. Consumers accustomed to shopping online through apps or websites. With maximum convenience and transparency, expect the same experience when it comes to ordering dinner.
Nevertheless, the market for food ordering & delivery stands at €83 billion. Or 1 percent of the total food market and 4 percent of food sold through restaurants and fast-food chains. Thus, it has already matured in most countries, with an overall annual growth rate estimated at just 3.5 percent for the next five years.
Hence, the most common form of delivery was the traditional model, but it was before covid19. Now the consumer places an order with the local shops & many other kinds of restaurants, particularly in urban areas, now offer delivery and waits for the restaurant to bring the food to the door.
This category has a 90 percent market share, and most of those orders and almost every order now are placed by phone.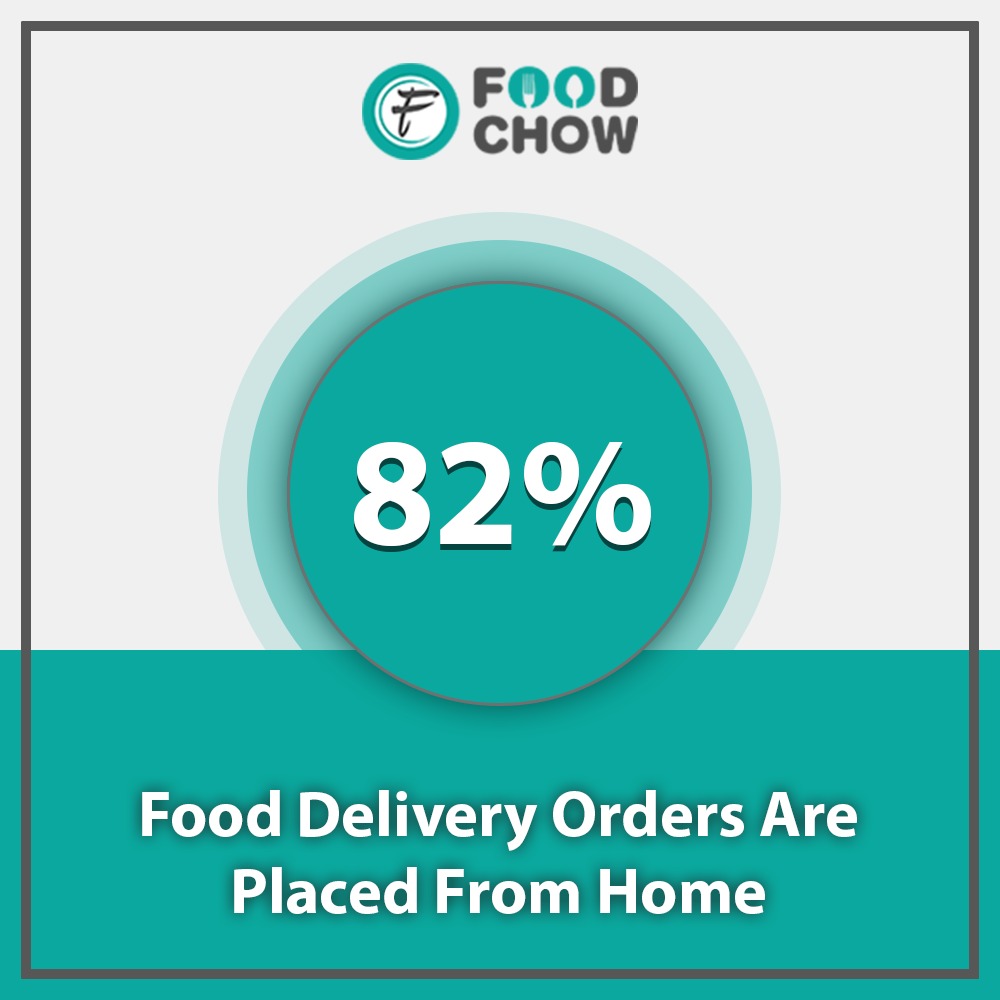 Why You Need An Ordering System?
Day by day the use of technology is increasing, online food ordering systems are becoming a popular topic for restaurant owners and food lovers.
The main purpose of an online ordering system is to provide customers for a better way to place an order at a restaurant or cafes or any other ghost platform over the internet.
So why is this important?
You need an Best Food Ordering system that is easy to set up, customizable, in your budget,  commission-free or low commission, feature-rich, user-friendly, support your marketing needs, help in your brand promotion, generally makes your life easier and your business more profitable. It should house all tools that you will need to boost your income.
The Main Reason For The Online Ordering System is That It Gives So Many Benefits To Both (The Customer And The Business.)
With FoodChow, customers can easily browse all the dishes the restaurant has available, customize dishes to their requirements and place an order. It can also save a lot of time for future orders as their favourite orders allowing them to easily re-order that in the future. This really helps both parties.
From the restaurant's perspective, they no longer spend time taking the customer's order. With the FoodChow: An online food ordering system, you can start for free to create your own webpages and start accepting orders online.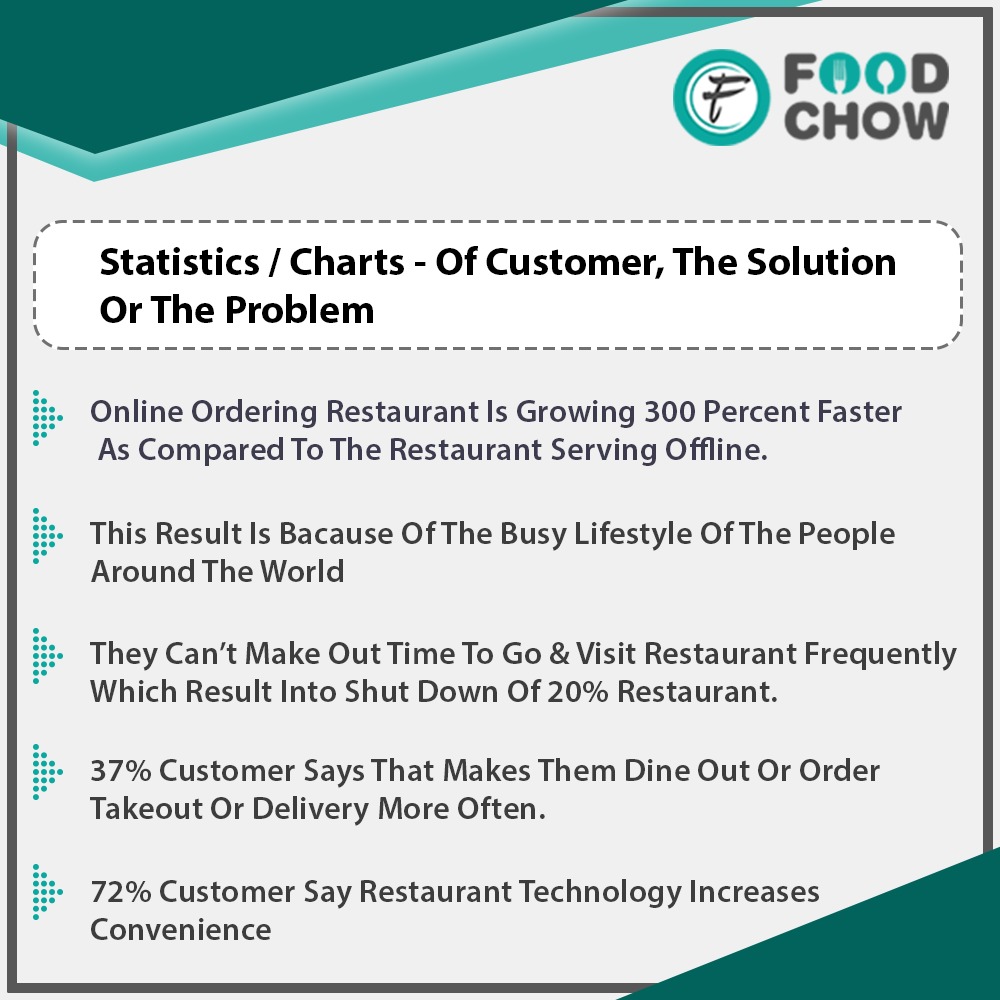 What can a restaurant ordering system do for your business?
As we all know that technology is the future of the world. But the question is what ways? And how it can be useful in the restaurant business. Or what can a restaurant ordering system do for restaurant or food business?
Imagine a guy named John, finished his work and tired of working all day long. And he is on the way home. John doesn't really know what he is craving for right now, so he decides to order the usual and calls his favorite restaurant.
He gave is order and the waitress said:- your order will be ready in 20 minutes for pickup. Thanks.
Nothing extraordinary in this but if john's favorite restaurant owner starts an online food ordering system for his restaurant's loyal customers. So they don't have to wait and they could just order through their Food Ordering Android & IOS App.
Customer experience is an important point to drives growth for the restaurant business. Whether a customer is dining-in or ordering online, his experience of placing the order to receiving it decides if he/ she is going to rave about your restaurant or not turn back again.
The restaurant ordering system hence becomes an incredibly important part of the growth of the restaurant business.
How FoodChow is one of the best food ordering app and ordering system?
After keeping in mind about what restaurant owners go through, we have developed FoodChow to help restaurant owners improve productivity and sales.
FoodChow is one of the fastest growing online and mobile food ordering system that helps you to take your restaurant business/ cafes or any food business online. It's developed especially for restaurant owners and food lovers.
We provide one of the Best White Label Solution, cafes, or food businesses worldwide. Through FoodChow we are helping customers to discover the best restaurants in the city.
If you are a restaurant owner, you can easily register your restaurant and upload the restaurant menu to start receiving online orders through this fast-growing portal without any cost.
When you start using FoodChow, you will mainly increase the number and value of orders. Customers appreciate that they do not have to wait for an available telephone line at your restaurant, while at the same time your staff will save precious minutes used for taking such orders.
Thanks to additional new marketing functions, you will increase sales as well as your profits, and also build a brand for your restaurant on the internet while increasing customer loyalty. About the advantages of an online ordering system (Read More)
Get your own food ordering solution today
Contact us and launch your own online ordering system for takeaway! Start making money online through sales of take-out orders, be closer to your customers, and get ahead of your competition!
Well, foodChow provides some very different features which you will hardly get in any other food ordering system. And even if you get all features it won't be available under one roof. So why use various platforms for all features when you can get all just in one app.
Therefore, with FoodChow you can have benefits like:
FoodChow provides Take Away Ordering solution
Pre-Orders solution
Catering Orders solutions
Table Ordering App solutions
Unique Webpages of your restaurants & Cafes
Social Media Marketing of your restaurants & cafes
Search Engine Optimization of your restaurants & cafes
Combo Deals
Real-Time Offers
Connect with Customers
Instant Payments
Table Reservation
More Features which will put FoodChow out of the crowd from other Online Food Ordering Systems…
FoodChow Helps Increase Business Volume
Provides Customizable Design
Easy To Use & Low Cost
Delivery Methods to restaurants
Analytics & Reports to restaurant owners
Instant App Creation
To know more about these benefits please visit our Foodchow's Features page.
How can you get started with a free ordering solution:
You can get started with your free online ordering and delivery system by adding your restaurant, café, or any food business on FoodChow.
Get complete free food ordering system for Website an App Today.
And food lovers download the food chow mobile app on your mobile and explore all your favorite restaurants in your city.